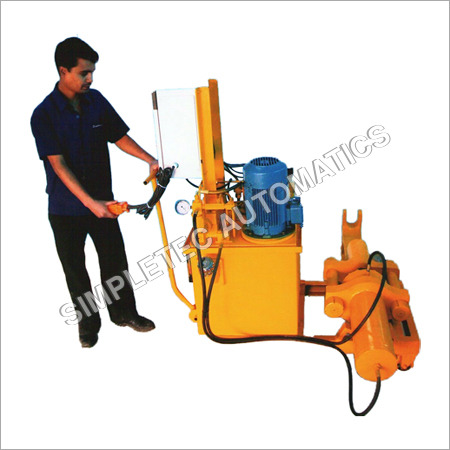 Product Description
Portable Track Press

We are a well established manufacturer, supplier and exporter of Portable Track Press to our huge clientele base. It is used to remove and install track pins, master pins, bushings and master bushing in the field. It makes use of finest of raw material and latest tools and equipment in fabricating according to the prevailing industrial standards. Portable Track Press is complete with a hydraulic power pack and a 'C' frame structure, mounted on a trolley.
Other Details:

Simpletec Track Press TP-180 is designed for assembly/disassembly of small and medium sizes of track chains. The maximum pressing force of each ram is 1765Kn(180T). The machine is suitable for manufacturing new chains and for rebuilding/re-conditioning. The operation of the machine is simple and safe. A single hand lever controls forward and return strokes of the rams. Machine can be supplied with track winder, hydraulic torque wrench, roller and idler welding machine etc.
Key Feature -
Negligible maintenance of this portable track pin press makes it more cost effective product
This portable track pin press is very robust thereby its operational life is very long
Less power consumption and competitive price of this portable track pin press makes it more competitive
Our esteemed clients can make small Orders for this portable track pin press
We offer this portable track pin press in very good Condition therefore they are more demanding in international market
These portable track pin press is manufactured professionally with high quality raw material used
Portable track pin press unbeatable price and OEM service offered by us is appreciated by the clients
Strong and versatile machinery is used for assembling and disassemblng pins for this portable track pin press
Specially designed electrical circuit of this portable track pin press is capable enough to regulate electrical flow in this machine
We can customize this portable track pin press according to client's need
Technical Specifications:
Technical Specification
Capacity
Daylight
Stroke
Connected load
Weight-Hand held unit
Weight-Trolley mounted hydraulic unit
735 kN/75T
350mm
125mm
2.25 kW
105 kg
198 kg
Simpletec Track Press TP-180
Capacity (each ram)
Ram speeds-Rapid forward
Press
Return
Connected load
Weight
1765 kN/180T
1730mm/min
320mm/min
3130 mm/min
11 kW/15 HP
4900 kg
Model No. : TP-100
Capacity
980 kN/100T
Daylight
450 mm
Stroke
150 mm
Connected Load
3.75 kW
Weight – Hand Held Unit
125 kg
Weight – Trolley Mounted Hydraulic Unit
200 kg
Our Global Market:

We are serving our esteemed clients of the following countries -
Mexico, France, Australia, Israel, Saudi Arabia, Lebanon, Peru, etc.
Why Prefer Us:
Simpletec machines are very much competitive in price and quality.
We have maintained strong marketing strategy through careful implementation of Just In time manufacturing process
We have achieved landmark of near zero rejection of our offered portable track pin press through utilizing strong Quality Control Systems.
Simpletec has very long term manufacturing agreement with reputed organizations in government and private both the sectors
We are designing,manufacturing and supplying high quality of machinery that is widely acclaimed