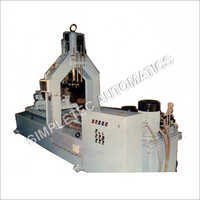 Rotor Bar Swaging Machine
Product Description
Rotor Bar Swaging Machine

Established in the year 1994, we are a leading manufacturer, exporter and supplier of Rotor Bar Swaging Machine that is used in different industries. An operator is required for loading and unloading of the rotor and once it is loaded, this machine works automatically without any specific assistance till completion of the whole swagging operation. This machine is manufactured using premium grade components under the stern supervision of our professionals at our well equipped manufacturing unit. Moreover, this Rotor Bar Swaging Machine is available in different technical specifications to meet the specific application needs of clients.
Features:
Sturdy construction
High operational fluency
User friendly
Impeccable performance
Special Purpose Machines
We manufacture fully automatic custom built special purpose machines. In all our custom built machines the main features are complete automation, including, machining or assembly. Indexing or relocating for the next operation, etc. and final unloading or transferring for further processing in other machines.

Rotor Bar Swaging Machine

Simpletec Rotor Bar Swagging machines are custom built as per the rotor diameter and length. The swagging force varies from 20T -30T, depending upon the rotor size. The machine is of modern welded type design, of absolutely rigid and robust construction. The machine operation is simple and operator friendly. Except loading/unloading of component and mounting/dismounting of roller jig, all other operations are automatic.

Normally the operator is required only for loading and unloading of the rotor. Once the rotor is loaded, the machine works automatically with out any assistance whatsoever for any manual attendance till completion of the entire swaging operation. On completion of the operation, an audio signal is given for the unloading of the rotor and loading of the next door.
Hydrostatic pressure testing machine for pipes

Simpletec Hydrostatic pressure testing machine for pipes are intended for testing cast iron funnels, consistent tubes, shell and so on. With water as the test liquid and test weights up to 200 bar. Higher test weights can likewise be advertised. Stacking of funnels, situating/adjusting for testing and exchange to the following station(for further operation) are all completely programmed. Two funnels are tried at once. The apparatus is of vigorous outline with no necessity of manual treatment of components.
TECHNICAL SPECIFICATION :
| | |
| --- | --- |
| Power | 3.7 kW |
| Voltage | 220-240V |
| Dimension | 670 x 490 x 780 mm |